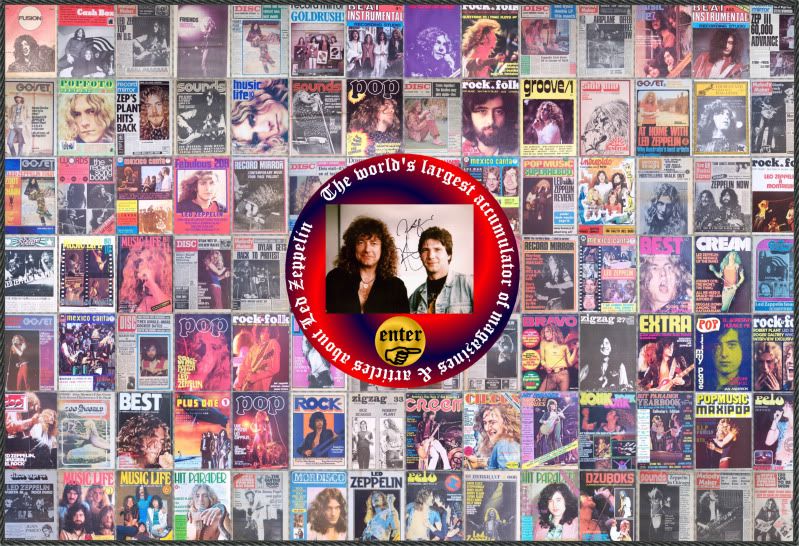 It's my pleasure to announce on this forum the launch of a new website that chronicles Led Zeppelin's global press coverage over the past five decades.
An astounding 1,400+ magazine covers are provided in chronological format. Visitors are encouraged to submit additions to the site owner for inclusion.
The world's largest collection of Led Zeppelin magazines:

www.rogerberlin.de
-------------------------------------------------------------------------
-------------------------------------------------------------------------
Neue Webseite www.rogerberlin.de
von
Rogerberlin
» Sa 25. Dez 2010, 17:34
So meine lieben Mitglieder - jetzt ist es bald so weit. Eine neue Webseite ist fertig und erscheint in Kürze. Hier nun in kurzen Stichworten die Entstehung dieser Seite. Roger produziert Bücher mit der Auflistung aller Magazine die er hat. Kaum ist ein Buch beim Buchbinder fertig liegen schon wieder 20 neue Hefte im Regal.

Gerd sagt: Roger setz sie doch ins Netz dann haben alle was davon.
Roger sagt: Ja toll Gerd aber ich kann so etwas nicht.
Gerd sagt: Kein Problem schick mir doch mal eine Idee, wie in etwa Du Dir das vorstellst.
Roger schickte und Gerd überlegte und überlegte und er überlegte lange, sehr lange.
Und dann, es ist gar nicht so lang her, kam der Anruf.
Und dann ging es los.
Schneller als mir Recht war.
Aber jetzt ist sie fertig und bald hier für alle zu erreichen.
Das erscheinen dieser Webseite ist zu 95% Gerd zu verdanken denn der Inhaber dieser Seite kann so etwas noch nicht.
Meinen persönlichen Dank möchte ich hiermit öffentlich gegenüber Gerd aussprechen.
Ohne seine fleißige Arbeit würde diese Seite nicht exestieren.
Manchmal müssen zu erst die Fetzen fliegen bevor man einen gemeinsamen Konsens findet.
Aber aus und vorbei. Wir wollen hier das FOZ voran treiben und interessanter machen.
Wer stehen bleibt der rostet.
Wir wollen aber nicht rosten.
Wir wollen glänzen und ich hoffe, dass wir jetzt wieder etwas besonderes zu bieten haben.
Nochmals vielen Dank für Deine Hilfe Gerd.
Und wenn Du mal meine Hilfe brauchst dann erinnere mich bitte an diesen Tag.
Wir hoffen das uns viele Kritiken hier und auf der Homepage der Website erreichen.

Rogerberlin
Edited by SteveAJones, 28 December 2010 - 07:16 AM.